Vets who have successfully completed the training are classed as BCVA Accredited Johne's Veterinary Advisors.
What is the BCVA Johne's training?
To be sure that as many vets as possible are fully up to speed with the details of Johne's management, the control strategies and the National Johne's Management Plan initiative, BCVA, in conjunction with the Action Group on Johne's, has developed some online training and an accreditation process (multiple-choice test). Vets who pass the test will gain the status of "BCVA Accredited Johne's Veterinary Adviser" – BAJVA for short.
How do I become a BAJVA?
BCVA will send you an email which invites you to register for the training. This can be purchased via the BCVA on-line shop. Once registered, you will gain access to the three short training modules and a multiple-choice quiz. You will need to correctly answer the 25- question assessment to show you understand important aspects of Johne's management and the 6 control strategies. Your name will be added to a list of accredited vets which will be held by BCVA and shared with the National Johne's Action Group to be included on the Action Johne's website.
Do I need to be a BAJVA to provide a Johne's action plan for my clients as part of the Initiative?
Yes. Only vets that have undergone the BCVA training programme are permitted to sign declarations.
What does the training entail and how long does it take?
There are three presentations, each between 20-40 minutes long, which you can access online at a time to suit you. This is followed by the assessment which will take most vets around 10-15 minutes to complete.
What will it cost me to become accredited?
We are keeping the barrier to accreditation as low as possible. BCVA members can register and access the training modules and do the assessment all for £10. Non-members will be charged £55. This will help BCVA recover its delivery costs. Payment will be at the time of registration – a simple process using the BCVA on-line shop.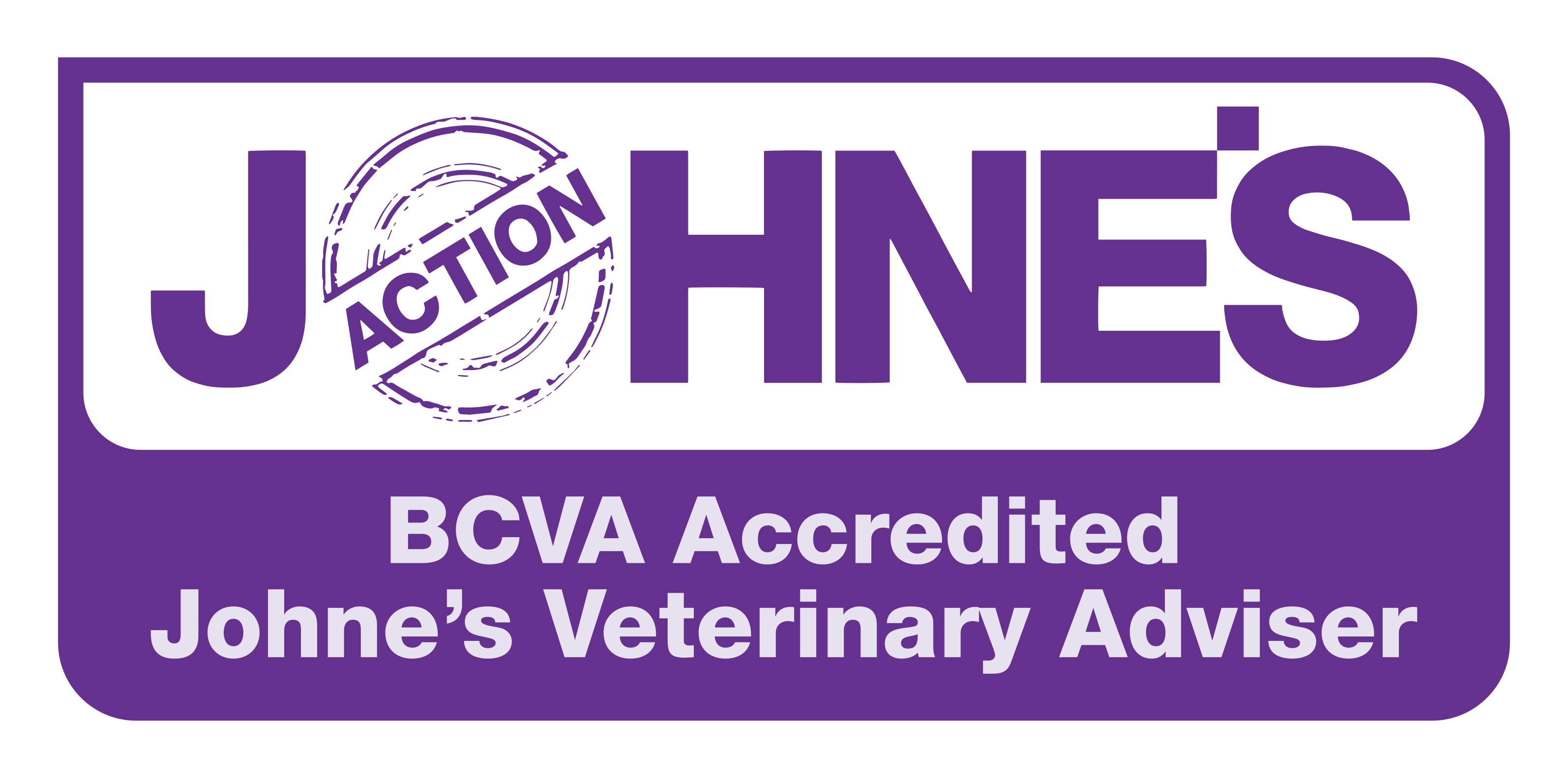 Click here for a list of our BCVA Action Johne's Veterinary Advisors.
---
The training is available to be purchased from the BCVA website http://www.bcva.eu/www.bcva.eu/cpd/BCVA-Johnes-Training
| Last Name | First Name | Practice |
| --- | --- | --- |
| Abbs | Anne | Paragon Veterinary Group |
| Ackerley | Suzanne | |
| Ainsworth | Elizabeth | Overdale Veterinary Centre |
| Aitken | James | Orchard Veterinary Group |
| Akers | Clare | Northpark Veterinary Group |
| Alcock | Philip | Bishopton Veterinary Group LLP |
| Alexander | George | Howells Veterinary Services Ltd |
| Alexander | John | |
| Allan | Jenny | |
| Allen | Simon | Allen & Partners |
| Allen | David | Shires Veterinary Practice |
| Allso | Charlotte | Wern Veterinary Surgeons |
| Almeida | Joao | Westpoint Farm Vets |
| Alony-Gilboa | Yoav | Friars Moor Veterinary Clinic Ltd |
| Alston | Johnny | Head and Head Veterinary Practice |
| Anderson | Emily | Biobest Laboratories Ltd |
| Anderson | Rhona | Forth Valley Vets |
| Anderson | David | Westpoint Group Trading Ltd (Ashbourne) |
| Anderton | Richard | Frame, Swift & Partners |
| Anderton | Tracy | Kenwyn Veterinary Centre |
| Andrew | Claire | Robertson & Orr Vet Practice |
| Angel | Tom | Synergy Farm Health |
| Anscombe | Jane | Farm First Veterinary Services |
| Armour | Donald | Westwards Veterinary Practice |
| Armstrong | Grace | Academy Vet Centre |
| Armstrong | Derek | AHDB Dairy |
| Armstrong | Paul | Firth Veterinary Centre |
| Armstrong | Rosie | |
| Arrowsmith | Katie | LLM Farm Vets |
| Ashford | Sally | Penbode Vets Ltd |
| Atkinson | Owen | Dairy Veterinary Consultancy Ltd |
| Aubrey | Mary Elizabeth | The fold farm vets |
| Aylett | Sophie | |
| Babb | Jim | Benson & Babb |
| Baguley | Carolyn | Scarsdale Veterinary Group |
| Baikie | Charlotte | Blackdown Farm Vets Limited |
| Bailey | Chris | Craven Farm Vets |
| Bailey | Suzanne | Oakhill Veterinary Centre |
| Bailey | Ed | The George Veterinary Group |
| Bainbridge | Tracy | The Park Veterinary Group Ltd |
| Baird | Graham | Map of Ag |
| Baker | Carol | Nick Baker |
| Balch | David | Mount Vets Ltd |
| Baldry | Nicole | The Hale Veterinary Group |
| Baldwyn | Sam | Hook Norton Veterinary Group |
| Balhatchet | William | The George Veterinary Group |
| Balkham | Jack | Westpoint Veterinary Group Ltd (Sevenoaks) |
| Balkwill | Richard | Selworthy Veterinary Group |
| Barber | Andrew | Clevedale Vet Practice |
| Barber | Ben | Synergy Farm Health |
| Barclay | Alasdair | Charnwood Veterinary Centre |
| Barclay | Jennifer | |
| Barker | James | Cross Counties Farm Vets |
| Barlow | Laura | Castle Veterinary Practice Ltd |
| Barlow | Graham | Forest House Vets Ltd |
| Barnhurst | Georgina | |
| Barrett | Andy | Craven Farm Vets |
| Bates | Joanne | |
| Batty | Hannah | LLM Farm Vets |
| Baxter | Emily | Drove Farm Vets Limited |
| Baxter | Keith | Westpoint Veterinary Group (Midhurst) |
| Bearman | Alexandra | Severn Edge Veterinary Group |
| Beattie | Kevin | Capontree Vet Centre |
| Beattie | Hannah | |
| Beck | Jeremy | J J Beck Veterinary Surgeon |
| Beckett | Alun | LLM Farm Vets |
| Beekhuis | Lies | Priory Vets Cardigan |
| Bell | Graham | The Stewartry Veterinary Centre Ltd |
| Bellini | Jenny | LLM Farm Vets |
| Benjamin | Katharine | Icknield Veterinary Group |
| Bennett | Edna | Tibbs and Simmons Ltd |
| Berry | Elizabeth | Animax Limited |
| Bexon | Melissa | Westpoint Group Trading Ltd, |
| Beynon | Sarah-Jane | Prostock Vets Limited |
| Bezuidenhout | Dawn | Clevedale Vet Practice |
| Biggs | Andy | Vale Veterinary Group (LA) Ltd |
| Bijker | Ingrid | St. Boniface Veterinary Clinic Ltd |
| Bingham | Lesley | Penbode Vets Ltd |
| Blain | Victoria | Craig Robinson Vets Ltd |
| Blair | Janis | Lanes Vets Ltd |
| Blake | Mike | TORCH Farm and Equine Ltd |
| Blanariu | Andrei | Tysul Vets |
| Bland | Emmie | Beacon Farm Vets |
| Blaxell | Lorraine | Three Rivers Veterinary Group |
| Bleasdale | Carla | LLM Farm Vets |
| Boardman | Grace | The George Veterinary Group |
| Boers | Maarten | The Livestock Partnership |
| Bonar | Sam | Grove Veterinary Centre |
| Boothby | Fiona | Vale Veterinary Group |
| Borsberry | Steve | 608 Farm and Equine Vets |
| Bowden-Doyle | Miranda | Agriculture and Horticulture Development Board |
| Bower | Hugo | Cheshire Farm Vets |
| Bowers | Amy | Howells Veterinary Services Ltd |
| Bowie | Henrietta | |
| Bowker | Samuel | Blackdown Farm Vets Limited |
| Boye | Sabine | Rowcliffe House Vets Limited |
| Boyes | Gareth | Ark Veterinary Centre |
| Bradbourn | Aled | Prostock Vets Limited |
| Bradburn | Stuart | Andrew Melling Ltd |
| Bradley | Stephen | Alnortumbria Vets |
| Bradon | Hannah | Westfield Veterinary Centre Ltd |
| Bradshaw | Charlie | Overdale Vet Centre |
| Brady | Maddie | Northvet Veterinary Group Ltd |
| Bragg | Rachel | Farm Animal Practice |
| Bramall | Andrew | Oakhill Veterinary Centre |
| Bramwell | Giles | Bakewell Veterinary Clinic Limited |
| Brearley | Ben | The Livestock Partnership |
| Breen | James | Orchard Veterinary Group |
| Brocket | James | Craig Robinson Vets |
| Brodie | Iain | Clyde Vet Group |
| Brodie | Kate | Drove Farm Vets Limited |
| Brooks | Claire | West Ridge Practice Ltd |
| Brown | Ross | Charnwood Veterinary Centre |
| Brown | Chloe | Midshire Farm and Equine |
| Brown | Deborah | Dugdale Nutrition |
| Browne | Richard | Browne & McKinney |
| Bruce | Sarah | Trefaldwyn Veterinary Clinic |
| Bruce-Miller | Melanie | Head and Head Veterinary Practice |
| Bryant | Chantal | LLM Farm Vets |
| Buchan | Colin | Avondale Veterinary Group |
| Buchanan | Emma | |
| Buckenham | Sinead | Howells Veterinary Services Ltd |
| Bulman | Ed | Mile House Veterinary Centre |
| Bunn | Sam | |
| Bunyan | Kalmos | Clevedale Vet Practice |
| Burge | Matthew | Damory Veterinary Clinic |
| Burki | Joost | Priory Vets Cardigan |
| Burns | Chris | Cliffe Veterinary Group |
| Burridge | Josie | Synergy Farm Health |
| Burton | Christopher | Stowe Veterinary Group |
| Butnaru | Bogdan | Friars Moor Veterinary Clinic Ltd |
| Button | Andrew | Bodrwnsiwn Veterinary Group |
| Button | Ellie | Howells Veterinary Services |
| Cairns | Hannah | Hampden Partners Limited |
| Callaghan | Gerard | Severn Edge Veterinary Group |
| Calow | Katrina | |
| Cameron | Callum | Ark Veterinary Centre |
| Cammack | John | Glenthorne Veterinary Group |
| Campbell | Layna | Andrew Melling Ltd |
| Campbell | Lesley | Swale Veterinary Surgery |
| Campbell | David | Two Rivers Vets |
| Campbell | Trine | |
| Campion | David | Priory Veterinary Centre |
| Capuzzello | Giovanni | University of Glasgow |
| Carling | Rebekah | Farmgate vets |
| Carr | Susan | Severn Edge Veterinary Group |
| Carroll | Danielle | Tysul Vets |
| Cartmell | Olivia | Lanes Vets Ltd |
| Casby | Eilidh | Armour Veterinary Group Ltd |
| Cassie | Angus | Westmorland Veterinary Group |
| Catrin | Hassan-Martin | Priory Vets Cardigan |
| Cavill | Rebecca | TORCH Farm and Equine Ltd |
| Caygill | Alistair | Mount Vets Ltd |
| Chantrey | Jonathan | |
| Chapman | Harriett | Coast 2 Coast Vets |
| Chapman | Charlotte | FarmGate Veterinary Services Ltd |
| Chapman | Jonathan | Penbode Vets Ltd |
| Charles | David | Scarsdale Veterinary Group, |
| Charlesworth | Abigail | |
| Charlton | Oliver | Penbode Vets Ltd |
| Charnley | Rosemary | |
| Chesters | Laura | LLM Farm Vets |
| Child | Jo | Friars Moor Veterinary Clinic Ltd |
| Childs | Hannah | Prostock Vets Limited |
| Church | Naomi | Norfolk Farm Vets |
| Clancy | Stephen | Moorland Veterinary Centre |
| Clarke | Colin | TORCH Farm and Equine Ltd |
| Clay | Harvey | Harvey Jane Clay BVSc MRCVS |
| Clayton | Jenny | Summerleaze Vets Ltd |
| Clemence | Angus | Midshire Farm and Equine |
| Clough | Charlotte | Arran Vets Ltd |
| Coates | Victoria | Kebir House Veterinary Practice Ltd |
| Coates | Amy | University of Liverpool |
| Collas | Harry | Lanes Vets Ltd |
| Collins | Bethany | Westmorland Veterinary Services Farm Animal Ltd |
| Compston | John | Southmoor Vets |
| Cook | Thomas | Synergy Farm Health |
| Coombes | David | Cedar Farm Practice Ltd |
| Coope | James | Cain Veterinary Centre |
| Cooper | Barry | Castle Veterinary Practice Ltd |
| Cooper | Richard | EBVC Ltd |
| Cooper | Alex | Fenton Vets |
| Cooper | Yasmine | Wright & Morten Veterinary Group LLP |
| Coppin-Harris | Alice | Molecare Veterinary Services |
| Costa | Jose | Hampden Partners Limited |
| Cottam | Sam | Synergy Farm Health |
| Cotton | Ashley | Rowcliffe House Vets |
| Cox | Amy | Haywood Farm Vets |
| Cranston | Ruth | Tethera Veterinary Services Ltd |
| Craven | Emily | Oakwood Veterinary Practice Ltd |
| Crawshaw | Thomas | MBM Vet Group |
| Crawshaw | Mark | MBM Vets Limited |
| Creasey | Scarlett | Kernow Farm & Equine |
| Critchley | Holegn | Oakhill Veterinary Centre |
| Crook | Alex | Cedar Farm Practice Ltd |
| Crooke | Joanna | Kernow Farm & Equine |
| Crosby | Tom | FarmVets SouthWest (Westpoint) |
| Crowe | Steven | Nantwich Veterinary Group |
| Crowter | Ben | Westover Veterinary Centre |
| Crozier | Alistair | Parkside Veterinary Group Ltd |
| Crust | Emma | Glenthorne Vets LTD |
| Crutchley | Andrew | Yan Farm Health |
| Cunliffe | Paul | Wood Veterinary Group Limited |
| Cunningham | Louise | Cameron and Greig Vets |
| Cure | Ian | LLM Farm Vets |
| Curnow | Ailsa | Northvet Veterinary Group Ltd |
| Cutler | Keith | Synergy Farm Health |
| D'alterio | Gian | Damory Vets |
| Daly | Patrick | Swanspool Veterinary Clinic |
| Daniel | Katherine | Castle Veterinary Group Ltd |
| Daniliuc | Cornel | Calweton Veterinary Group |
| Dare | Julian | Fairview Farm Vets |
| Darvill | Robert | Benson & Babb |
| Davenport | Rebecca | Rutland Veterinary Centre |
| David | John | Norcal Vet Services |
| Davidson | John | Flett and Carmichael |
| Davies | Robert | Allen & Partners |
| Davies | Eleri | Farm First Veterinary Services |
| Davies | Stephen | Prostock Vets Limited |
| Davies | Alex | St. James' Veterinary Group |
| Davies | Anika | |
| Davies | Claire | |
| Davis | Joe | |
| Davison | Mikayla | LLM Farm Vets |
| Dawber | Phil | Cornwall Dairy Vets |
| Dawson | Emily | Charter Veterinary Hospital |
| De Angelis | Maria Elisabetta | |
| Dean | Rebecca | FarmGate Veterinary Services Ltd |
| Denholm | Michael | Clyde Vet Group |
| Denston | Charlotte | Coomara Veterinary Practice |
| Devlin | Edward | |
| Di Florio | Renzo | The Park Veterinary Group Ltd |
| Dibble | Harry | Tyndale Vets |
| Dick | Iain | Ark Veterinary Centre |
| Dimelow | Abigail | Prostock Vets Limited |
| Diment | Jon | Bredy Veterinary Centre |
| Dixon | James | Westpoint Veterinary Group Ltd (Ashbourne) |
| Dobson | Kirby | |
| Dodd | Rebecca | Yan Farm Health Ltd |
| Doel | Georgina | Garston Veterinary Group |
| Dolan | Fiona | Freedom Veterinary Advisory Services Ltd |
| Dolbear | Matthew | Cedar Farm Practice Ltd |
| Donovan | Laura | Nantwich Veterinary Group |
| Doran | Paul | Friars Moor Veterinary Clinic Ltd |
| Doull | Andrew | Browne & McKinney |
| Dourado | Jose | Market Hall Vets |
| Downes | Thomas | Downes Vet Services |
| Drouin | Ralph | Shepton Veterinary Group |
| Duckworth | Imogen | Hook Norton Veterinary Group LLP |
| Duffy | John | Cundall & Duffy |
| Duncan | Scott | Clyde Veterinary Group |
| Duncan | Jonathan | Sandstone Vet Group |
| Dunford | Katrina | Southwood Common Farm |
| Dunnett | Elizabeth | APHA |
| Dunse | Roderick | Dunmuir Veterinary Group |
| Dustan | Benjamin | Tarn Farm Vets |
| Duthie | Susan | Biobest Laboratories Ltd |
| Eames | Clare | Synergy Farm Health |
| Eastham | Neil | Bishopton Veterinary Group LLP |
| Eaton | Emily | Bishopton Veterinary Group |
| Eden | Laura | Bishopton Veterinary Group |
| Edwards | Robert | Cain Veterinary Centre |
| Edwards | Gethin | Sandstone Vet Group |
| Edwards | Hollie | Wright & Morten Veterinary Group LLP |
| Egli | Christoph | IDEXX Europe B.V. |
| Elkins | Phil | Moo Vet Consultancy |
| Elworthy | Sophia | TORCH Farm and Equine Ltd |
| Enoch | Victoria | Biobest Laboratories Ltd |
| Erkelens | Janneke | Hammond Vets Limited |
| Evans | Matthew | Fenton Veterinary Practice Limited |
| Evans | Arwyn | Milfeddygon Deufor |
| Evans | Dilwyn | The Bridge Veterinary Centre |
| Evans | Caroline | The Oak Veterinary Group Ltd |
| Evans | Charlotte | Tibbs and Simmons |
| Eve | Andrew | |
| Falder | Nicola | Glenthorne Veterinary Group |
| Fall | Derrick | Swale Veterinary Surgery |
| Fallon | Michael | MBM Vets Limited |
| Farrar | Lee | Prostock Vets Limited |
| Farrow | Emily | Derwent Vale Farm Vets |
| Feneley | David | Wensum Valley Veterinary Surgeons |
| Fenemore | Sam | Prostock Vets Limited |
| Field | Isabel | Cliffe Veterinary Group Ltd |
| Fisher | Nichol | Daleside Veterinary Group |
| Fisher | Victoria | Farm First Vet Services |
| Fisher | Laura | West Lakeland Veterinary Group |
| Fitzgerald | Annemarie | |
| Fitzsimmonds | Hannah | LLM Farm Vets |
| Flanagan | Anne | Three Rivers Veterinary Group |
| Fletcher | Hannah | Midshire Veterinary Group Ltd |
| Fletcher | Lucy | The George Veterinary Group |
| Foden | Gareth | Synergy Farm Health |
| Fogarty | Caoimhin | |
| Foley | Benjamin | Ribble Vets Ltd |
| Foo | Amanda | Westpoint Farm Vets |
| Forde | Leanne | |
| Forgan | Kate | TORCH Farm and Equine Ltd |
| Forwood | Joanne | Robson and Prescott Vets |
| Foster | Charlie | Borders Vets |
| Foster | Steven | E.C Straiton and Partners Ltd |
| Foulkes | Matthew | Black Mountains Farm Services Ltd |
| Fowler | Charlotte | St. Boniface Veterinary Clinic Ltd |
| Fox | Neil | Clyde Vet Group |
| Franks | Olivia | Hampden Partners Limited |
| Fraser | Neil | Churchfield Veterinary Centre |
| Frayne | James | Millcroft Veterinary Group |
| Freeman | Laura | The Kingston Vet Group |
| French | Jo | The Dryfe Veterinary Group |
| Frezzato | Giulia | |
| Friend | Edward | |
| Friggens | Martin | Northpark Veterinary Group |
| Frost | Emily | Tibbs and Simmons Ltd |
| Fryars | Lora | Lanes Vets Ltd |
| Fuller | Russell | South Wales Farm Vets |
| Fulop | Mihaela | Friars Moor Veterinary Clinic |
| Gallagher | Hannah | Coomara Veterinary Practice |
| Galloway | Joel | Belmont Farm and Equine Vets Ltd |
| Gamwells | Tom | Delaware Veterinary Group |
| Garbutt | Molly | Wern Vets Cyf |
| Gardiner | Mark | Park Veterinary Centre |
| Garnett | Alex | Chapelfield Veterinary Partnership |
| Gascoigne | Emily | Synergy Farm Health |
| Gasson | Christopher | |
| Gay | Rebecca | Axe Valley Large Animal Vets Limited |
| Gay | Sarah | South Moor Vets |
| George | Robert | Nantwich Veterinary Group |
| George | Ben | Tyndale Vets |
| George | Gabriella | Westpoint Farm Vets |
| Gerard | Anna | The Livestock Partnership |
| Gibbs | Steven | Forest House Vets Ltd |
| Gibbs | Anne | MacArthur Barstow & Gibbs |
| Gibson | Sophie | Tethera Veterinary Services |
| Gibson | Laura | Westpoint Veterinary Group (Chelmsford) |
| Gidlow | Bethan | Glenthorne Veterinary Group |
| Gilbert | Dave | Horizon Dairy Vets Ltd |
| Giles | Lucy | Castle Veterinary Group |
| Giles | George | Giles & Parsons Farm Vets |
| Giles | Marcus | |
| Gillespie | Amy | University of Liverpool |
| Gilmour | Izzi | |
| Giraud | Fabienne | |
| Gladden | Nicola | University of Nottingham Vet School |
| Glover | Mark | Morton Veterinary Consultancy Limited |
| Glover | Mike | TORCH Farm and Equine Ltd |
| Godley | Bethany | Wern Veterianry Surgeons |
| Goldstein | Daniel | Yoredale Farm Vets |
| Goodfellow | Katie | Towcester Veterinary Centre |
| Goodson | Jonathan | Goodson Farm Vets |
| Gough | Jane | 608 Farm and Equine Vets |
| Gould | Jade | |
| Gourlay | Rupert | Creebridge Veterinary Centre |
| Grabnar | Petra | Hampden Partners Limited |
| Gracey | Zoe | Putlands Veterinary Surgery |
| Gratwick | William | LLM Farm Vets |
| Greaves | Emma | |
| Green | Tom | Craven Farm Vets |
| Green | Becca | Four Crosses Veterinary Surgery |
| Green | Christopher | |
| Gregory | Christopher | Molecare Veterinary Services |
| Gregory | Sarah | |
| Griffith | John | Bodrwnsiwn Veterinary Group |
| Griffith | Bethan | Milfeddygon Deufor |
| Griffiths | Hannah | Mount Vets Ltd |
| Gue | Matthew | Huddlestone farmers |
| Haggerty | Ali | The Stewartry Veterinary Centre Ltd |
| Hall | Rob | LLM Farm Vets |
| Hall | Emily | Medivet |
| Hallows | Nicky | CVS Vets |
| Hambling | Caroline | Hampden Veterinary Hospital |
| Hamilton | John | Ark Vet Centre |
| Hamilton | Trevor | Clyde Veterinary Group |
| Hamilton | Keir | South Moor Vets |
| Hampson | Sarah | LLM Farm Vets |
| Harcourt-Brown | Lahra | Axe Valley Large Animal Vets Limited |
| Harding | Pamela | Prostock Vets Limited |
| Harding | Sophie | Tibbs and Simmons Ltd |
| Hardy | Max | Farm Vet Solutions |
| Harker | Sarah | FarmGate Veterinary Services Ltd |
| Harries | Elizabeth | Tysul Vets |
| Harrison | Rachel | Dalehead Veterinary Group Ltd |
| Harrison | David | Daleside Veterinary Group |
| Harrison | Charlotte | Hook Norton Veterinary Surgeons |
| Harrison | Rebecca | Peakfield Farm Vets |
| Harrison | Chris | West Lakeland Veterinary Group |
| Hartley | James | Oakhill Veterinary Centre |
| Hastie | Catriona | Robertson & Orr Vet Practice |
| Hastings | Peter | Nithsdale Farm Vets Ltd |
| Hatch | Emily | Vale Veterinary Group |
| Hatfield | Cara | |
| Havercroft | Charlotte | The Willows Veterinary Group |
| Hawkins | Daisy | Capontree Veterinary Centre |
| Hawkins | Eilidh | Wern Vets |
| Hawksworth | Katy | Kernow Farm & Equine |
| Hayton | Mark | Capontree Vet Centre |
| Hayton | Alastair | Synergy Farm Health |
| Hayton | Rachel | Synergy Farm Health |
| Heard | Lauren | Penbode Vets Ltd |
| Hedley | Eliot | FarmVets SouthWest |
| Hemingway | John | Shropshire Farm Vets Ltd |
| Henderson | Andrew | LLM Farm Vets |
| Henderson | Robert | Midshire Veterinary Group Ltd |
| Henderson | Katrina | SAC Dumfries |
| Henderson | Robbie | Westwards Veterinary Practice |
| Hener | Adriana | Westpoint Farm Vets (Daventry) |
| Henry | Kristabel | Calcoed Vets |
| Hepworth | Lucy | Friars Moor Veterinary Clinic Ltd |
| Hewitson | Mark | Minster Veterinary Centre |
| Hewitson | Katy | |
| Hewitt | Edward | Armour Veterinary Group Ltd |
| Hill | Mary | Arrowfield Veterinary Practice |
| Hillman | Richard | Luxstowe Vets |
| Hinde | Davinia | Bainbridge Vets Ltd |
| Hipolito | Vitoria | Park Issa Veterinary Hospital |
| Hobbs | Bekky | Castle Veterinary Group |
| Hobbs | Jonathan | North Park Veterinary Group |
| Hodgkinson | Oli | Trefaldwyn Veterinary Clinic |
| Hodgson | Scott | Beacon Veterinary Centre |
| Hodgson | Lewis | Nantwich Farm Vets |
| Hodgson | Rebecca | Oakhill Veterinary Centre |
| Hogg | Saskia | |
| Hole | Alice | Axe Valley Large Animal Vets Limited |
| Hopkins | Sophie | Grace Lane Vets |
| Hopkins | Nikki | Hafren Veterinary Group |
| Hopkins | James | Steffan Veterinary Services |
| Hopkins | Thomas | |
| Hoppe | Paula | MacArthur Barstow & Gibbs |
| Horn | Tiffany | Ribble Vets |
| Horsfield | Janet | Lanes Vets Ltd |
| Houldcroft | Amy | Northpark Veterinary Group |
| Houldsworth | Sarah | Border Vets |
| Howard | Rebecca | Westmorland Veterinary Group |
| Howe | Rob | Lambert Leonard & May (Lancs) LLP |
| Howell | Cassie | Willows Farm Animal Veterinary Practice |
| Howgill | Helen | Castle Veterinary Group Ltd |
| Howie | Neil | |
| Howson | Kirsty | Yan Farm Health |
| Hoy | Catriona | Farm Gate Veterinary Services Limited |
| Hudson | Victoria | LLM Farm Vets |
| Hughes | Lauren | Blakemere Veterinary Centre |
| Hughes | Emma | Camlas Farm Vets LLP |
| Hughes | Laura | LLM Farm Vets |
| Hughes | Sean | Shropshire Farm Vets Ltd |
| Hughes | Kristy | |
| Hughes | Malan | |
| Hume | Tom | Westover Veterinary Centre |
| Hume | Kathryn | Westpoint Farm Vets (Kent) |
| Humphries | Dan | Dairy Insight Ltd |
| Hunt | Hannah | Ystwyth Veterinary Group |
| Husband | James | EBVC Ltd |
| Hutchinson | Sam | Galedin Vets |
| Hutchison | Jennifer | MBM Vets Limited |
| Hutley | Ben | Cornwall Dairy Vets |
| Hylands | Matt | Iveagh Veterinary Surgery |
| Ibbotson | Nicholas | |
| Iddles | Fiona | Coast2Coast Farm Vets |
| Illingworth | Ian | Dalehead Veterinary Group Ltd |
| Inman | Becky | FarmGate Veterinary Services Ltd |
| Irving | Kate | LLM FarmVets |
| Isaacs | Adelle | Larkmead Veterinary Group LTD |
| Jackson | Alana | Cain Veterinary Centre |
| Jackson | Thomas | Haywood Farm Vets |
| Jackson | Michelle | Holmefield Farm Services |
| Jackson | Rose | |
| James | Eleri | Nantwich Farm Vets |
| James | Tomas | Penbode vets Ltd |
| James | William | |
| Jamieson | Ewan | Meadows Veterinary Centre |
| Jarman | Hannah | Prostock Vets Limited |
| Jefferson-Loveday | Edward | |
| Jenkin | Rebecca | Blakemere Veterinary Centre |
| Jenkins | Owain | Delaware Veterinary Group |
| Jenkins | Rees | |
| Jerram | Lucy | Endell Veterinary Group Ltd |
| John | Brendan | Evolution Vets LLP |
| John | Mike | Fenton Veterinary Practice |
| Johnson | Sarah | Pendragon Vet Ltd |
| Johnson | Lucy | Scarsdale Veterinary Group |
| Johnson | Alice | |
| Johnston | Alana | Forth Valley Vets, Sterling |
| Johnston | Isobel | Willows Farm Veterinary Practice |
| Johnston | Courtney | |
| Jones | Frances | Aeron Vets Ltd |
| Jones | Dewi | Avon Farm Vets |
| Jones | Amy | Cornwall Dairy Vets |
| Jones | Edward | Isle Veterinary Group |
| Jones | Finlay | LLM Farm Vets |
| Jones | George | Priory Vets Cardigan |
| Jones | Leighanne | Priory Vets Cardigan |
| Jones | Christopher | Selworthy Veterinary Group |
| Jones | Molly | St James Veterinary Group |
| Jones | Lucy | Tibbs and Simmons Ltd |
| Jones | Gwyn | Wern Veterinary Surgeons |
| Jones | Rachael | |
| Jowett | Rebecca | Cross Green Veterinary Centre |
| Jowett | Ben | The George Veterinary Group |
| Judkins | Oliver | Mount Vets Ltd |
| Julian | Melanie | Broughton Veterinary Group Ltd |
| Just | Chris | St. Boniface Veterinary Clinic Ltd |
| Kartsalkas | Christos | Chapelfield Veterinary Partnership |
| Karvountzis | Sotirios | Mendip Veterinary Services Ltd |
| Kaseke | Chris | Prostock Vets Limited |
| Kay | Lucie | Calweton Veterinary Group |
| Kayes | Nicola | West Ridge Practice Ltd |
| Kean | Bethany | Bute And Cowal Vets |
| Kellet | Michela | Frame, Swift and Partners |
| Kellock | Howard | Fakenham Farm and Equine Vets |
| Kelly | Robert | |
| Kemp | Mo | Milfeddfygon Calcoed Vets |
| Kemp | Richard | Milfeddfygon Calcoed Vets |
| Kendall | Bryony | Tyndale Farm Veterinary Practice |
| Kennard | Seth | |
| Kennedy | Emma | County Vets Ltd |
| Kent | Hannah | Shires Vets |
| Kenway | Hannah | Green, Roberrts & Butler |
| Kerby | Michael | Synergy Farm Health |
| Kereme | Greete | Prostock Vets Limited |
| Kerr | Annie | Paragon Veterinary Group |
| Kilburn | Claire | Donaldson Vets |
| King | Dan | Bishopton Veterinary Group LLP |
| King | Brigid | BVC Farm Vets |
| King | Simon | LLM Farm Vets |
| King-Cox | Daniel | Head & Head Veterinary Practice |
| Kipling | Katherine | Wood Veterinary Group Limited |
| Kirby | Natasha | |
| Kirk | John | Glenthorne Veterinary Group |
| Kirkwood | Paul | Paragon Veterinary Group |
| Kirner | Chris | Tenby Vets |
| Kitchen | David | Focus Farm Vets Ltd |
| Knight | Roxanne | Head and Head Veterinary Practice |
| Knight | Richard | Westmorland Veterinary Services Farm Animal Ltd |
| Kolodziejczyk | Alicja | Wern Vets Cyf |
| Lacrosse | Sylvaine | Molecare Veterinary Services |
| Lamont | Lucy | |
| Lane | Elizabeth | Meadows Farm vets |
| Lane | Abbie | |
| Lannoo | Felix | Priory Vets |
| Latham | Tracy | Moorland Veterinary Centre Ltd |
| Lawrence | Freya | South Moor Vets |
| Lawson | Jake | Focus Farm Vets |
| Laycock | Tom | Blackdown Farm Vets Limited |
| Lazaro | Violeta | Drove Farm Vets Limited |
| Le Cocq | Lucy | Isabelle Vets Ltd |
| Leak | Sarah | |
| Lee | Judith | Westmorland Veterinary Services Farm Animal Ltd |
| Legate | Emily | Cross Green Veterinary Centre |
| Legg | Eleanor | Clyde Vet Group |
| Leggett | Margaret | M. M. Leggett Veterinary Care |
| Leighton | Philip | Penbode Vets Ltd |
| Leslie | Gemma | McMurtry & Harding Veterinary Practice |
| Lesnianski | Constance | Farm First Veterinary Services |
| Lethbridge | Georgina | South Moor Vets |
| Lewis | Sam | |
| Leyman | Dan | Vale Veterinary Group (LA) Ltd |
| Liebenschutz-Jones | Connie | Park Issa Veterinary Hospital |
| Lindley | George | |
| Lindsay | Colin | Veterinary Consultancy ltd |
| Linney | Andrew | Dalehead Veterinary Group Ltd |
| Lintin | Samantha | Market Veterinary Centre |
| Linton | Emily | Luxstowe Vets Limited |
| Livingstone | Eleanor | Friars Moor Veterinary Clinic Ltd |
| Loader | Gemma | Kingston Veterinary Group |
| Loader | Hannah | Norcal Veterinary Services |
| Lockett | Chris | Hird and Partners LLP |
| Loewenstein | Nathan | Shropshire Farm Vets Ltd |
| Lomas | Jennie | Wright & Morten Veterinary Group LLP |
| Longhi-Browne | Cassandra | Northvet Veterinary Group Ltd |
| Lowis | Isabella | Damory Veterinary Clinic |
| Luckhurst | Pippa | Blakemere Veterinary Centre |
| Luckhurst | Chris | |
| Lush | Thomas | Penbode Vets Ltd |
| Luther | Charlotte | Damory Veterinary Clinic |
| Lyle | Rosie | |
| Lyon | Alexander | Donview Veterinary Centre |
| Lyons | Tom | Lanes Vets Ltd |
| Lyth | Stephanie | Wright & Morten Veterinary Group LLP |
| Macaldowie | Colin | |
| MacFarlane | Julie | University of Bristol |
| Macinnes | Miranda | Calweton Veterinary Group |
| MacMenemey | Fiona | Creebridge Veterinary Centre |
| Macpherson | Ian | Hird and Partners LLP |
| MacRae | Alastair | Division of Veterinary Clinical Sciences, Royal (Dick) School of Veterinary Studies |
| Main | William | Belmont Farm and Equine Vets Ltd |
| Makepeace | Matthew | Park Issa Veterinary Hospital |
| Malpass | Sarah | Shires Veterinary Practice |
| Mann | Rebecca | Rosevean Veterinary Practice |
| Mannering | Jemma | Rosevean Veterinary Practice |
| Manson | John | Nantwich Veterinary Group |
| Marmion | Jenny | Cheshire Farm Vets |
| Marsden | Johanna | Molecare Veterinary Services |
| Marsden | James | Shropshire Farm Vets Ltd |
| Marshall | Alasdair | Molecare Veterinary Services |
| Marshall | Ashley | The Minster Veterinary Practice (Westpoint) |
| Marsman | Anuschka | Prostock Vets Limited |
| Marwood | Charles | Clyde Vet Group |
| Massey | Phillip | Ribble Vets Ltd |
| Massey | Olivia | Tibbs and Simmons Ltd |
| Matheson | Kate | Robson & Prescott the Veterinary Centre |
| Matthews | Kate | Kite Consultancy Services LLP |
| Matthews | Sarah | Nithsdale Farm Vets Ltd |
| Maxwell | Andrew | Farm First Veterinary Surgeons |
| Maxwell | Oliver | Green Counties Vets Ltd |
| May | Peter | Bovine Health & Reproduction |
| Mayer | Jonathan | Park Issa Veterinary Hospital |
| Mayes | George | |
| Mayne | Katy | Dyfed Farm Vets |
| Mayo | Charlotte | Shepton Veterinary Group |
| Mays | Charlie | LLM Farm Vets |
| McAlonan | Eoghan | FarmVets SouthWest |
| McAlonan | Arthur | FarmVets SouthWest (Westpoint) |
| McAlpine | Toby | Aireworth Veterinary Centre |
| McCappin | Natasha | MBM Vets Limited |
| Mccarthy | William | Galloway Veterinary Group |
| McConnell | Robert | |
| Mccormack | Alan (Hugh) | Rae, Bean & Partners |
| McCrae | Holly | Armour Veterinary Group Ltd |
| McCree | Matthew | Shires Veterinary Practice |
| McCrone | Ian | The Queen's Veterinary School Hospital |
| McDonald | Ian | Academy Vet Centre |
| McDonald | Kay | Tethera Veterinary Service |
| McDonnell | Samantha | Nant Vets Surgery |
| McFarland | James | Icknield Vet Group Ltd |
| McGillivray | Colin | Galedin Veterinary |
| McGregor | Chris | Tinto Farm Vets |
| Mcharg | Megan | County Vets |
| McKay | Molly | Norfolk Farm Ltd |
| McKee | Euan | Cameron & Greig |
| McKie | Amy | Camlas Farm Vets LLP |
| Mckie | Hilary | Machars Vet Services |
| McKinney | William | Browne & McKinney |
| McKinstry | Jim | FarmGate Veterinary Services Ltd |
| McKnight | Will | Portland House Veterinary Group |
| McLaren | David | Kirkton Vet Centre |
| McLaren | Jamie | Moray Coast Vet Group |
| Mclellan | Jim | |
| McMillan | Ailsa | Cain Veterinary Centre |
| Mcpherson | Alex | Drove Farm Vets Limited |
| Mcpherson | Graeme | Synergy Farm Health |
| Melleney | David | Donaldsons Vets Ltd |
| Melo | Sara | Dyfed Farm Vets |
| Mendes | Catarina | Dunmuir Veterinary Group |
| Messer | Caroline | |
| Metcalfe | James | Belle Vue Veterinary Practice |
| Metcalfe | Sarah | The George Veterinary Group |
| Middlemas | Pippa | Clevedale Vet Practice |
| Middleton | Miles | Bishopton Veterinary Group LLP |
| Mihail Stoica | Petre | Shropshire Farm Vets |
| Milbank | Elizabeth | Prostock Vets Limited |
| Milby | Heather | Focus Farm Vets Ltd |
| Millar | Andrew | Ardene House Vet Practice Ltd |
| Millar | Louise | Kintyre Veterinary Services |
| Miller | George | Badgers Oak Veterinary Clinic |
| Millward | Sam | Oakhill Veterinary Centre |
| Misselbrook | Nigel | Chaseview Veterinary Clinic Ltd |
| Mitchell | Simon | Coast2Coast Farm Vets |
| Mitchell | Walter | Dryfe Vets Ltd |
| Mitchell | Joseph | Nantwich Farm Vets |
| Moelands | Dominique | Stapley Veterinary Practice |
| Moffat | Jamie | |
| Moffett | Alasdair | Synergy Farm Health |
| Moffett | Esme | Synergy Farm Health |
| Montgomerie | Adam | Craven Farm Vets |
| Montgomery | Jenna | |
| Moore | Nicola | Towcester Veterinary Centre |
| Moorhouse | Julia | EBVC Ltd |
| Moran del Aguila | Alba Maria | Westpoint Farm Vets (Daventry) |
| Morgan | Lucy | Blackdown Farm Vets Limited |
| Morgan | Linda | Marches Farm Vets Ltd |
| Morindau | Radu | Dolgellau Veterinary Surgery |
| Morris | Maria | Strule Veterinary Services |
| Morrison | Hannah | Broughton Veterinary Group Ltd |
| Morrison | Oliver | MBG Veterinary Surgeons |
| Mort | Lauren | Caerwys Veterinary Surgery |
| Mortimer | Sarah | The Livestock Partnership |
| Morton | Anna-Mae | Vale Veterinary Group |
| Moss McCrory | Charlotte | Horizon Dairy Vets |
| Mottram | Helen | Stanley House Vets |
| Mouland | Charlotte | Synergy Farm Health |
| Moule | Emily | LLM Farm Vets |
| Mouncey | Shona | Paragon Veterinary Group |
| Muir | Rachel | |
| Mulligan | Gareth | Afon Vet Centre |
| Mundell | Brian | Capontree Vet Centre |
| Munnich | Lisa | |
| Murphy | Michael | Oakhill Veterinary Centre |
| Murray | Grace | Wensleydale Vets |
| Naidoo | Poolrendran | Tenby Vets |
| Nail | Emily | Garston Supplies Ltd |
| Navas | Maria | Farm Veterinary Solutions |
| Neale | Charles | Shepton Veterinary Group |
| Neish | Fergus | |
| Newsome | Laura | Oakhill Veterinary Centre |
| Newsome | Reuben | Park Veterinary Group |
| Newton | Serena | Kernow Farm & Equine |
| Nicholls | Heather | Biobest Laboratories Ltd |
| Noblett | Edward | Bishopton Veterinary Group LLP |
| Norquay | Robert | Galedin Farm Vets |
| Northey | André | Synergy Farm Health |
| Odbert | Ben | South Moor Vets |
| O'Donovan | Mark | Aeron Vets Ltd |
| Offer | Sophie | Westpoint Farm Vets |
| Ogborne | Edward | |
| O'Hara | James | Synergy Farm Health |
| O'Hare | Aidan | Castle Veterinary Group |
| Oldroyd | Jennifer | Avondale Veterinary Group |
| Oliver | Alexander | Bishopton Veterinary Group LLP |
| Oliver | Lee-Anne | Scott Mitchell & Associates |
| Oliver | Emily | |
| O'Mahony | Barry | Bredy Veterinary Centre |
| O'Mahony | John | Castle Veterinary Group Ltd |
| O'Malley | Peter | Synergy Farm Health |
| Oosterhof | Hedwich | Galedin Vets |
| O'Reilly | Sarah | Westpoint Veterinary Group Ltd (Sevenoaks) |
| O'shea Brown | Thomas | Cheshire Farm Vets |
| O'Sullivan | Tim | Shropshire Farm Vets Ltd |
| O'Sullivan-Greene | Finbarr | FarmGate Veterinary Services Ltd |
| Oudhuis | Victor | Paragon Veterinary Group |
| Oven | Rachael | McMurtry & Harding Veterinary Practice |
| Oxtoby | Thomas | The George Veterinary Group |
| Padkin | Alistair | Nithsdale Farm Vets Ltd |
| Paige | Jack | Belle Vue Veterinary Practice |
| Panesar | Nimrath | RVC |
| Parker | Charlie | Oakhill Veterinary Centre |
| Parrish | Kate | Icknield Vet Group Ltd |
| Parry | Iwan | Milfeddygon Dolgellau |
| Parsons | Jon | Giles & Parsons Farm Vets |
| Partlett | Jessica | TORCH Farm and Equine Ltd |
| Partridge | Samantha | Tern Veterinary Practice |
| Patch | Anna | Shepton Veterinary Group |
| Patel | Shrea | Glenthorne Veterinary Centre |
| Patel | Stephanie | Molecare Veterinary Services |
| Patton | Ian | Damory Veterinary Clinic |
| Peacock | Ed | Old Stone Vets |
| Pearson | Claire | Biobest Laboratories Ltd |
| Peat | Martin | Castle Veterinary Practice Ltd |
| Pedley | Ben | Willows Vet Group |
| Pengelly | Carmen | Cliffe Veterinary Group |
| Pennington | Charlotte | Paragon Veterinary Group |
| Pepper | Bill | Cliffe Veterinary Group Ltd |
| Pepperell | Piers | Mount Vets Ltd |
| Pera | Francesca | Prostock Vets Limited |
| Perkins | Alex | Shepton Veterinary Group |
| Perry | Caroline | Synergy Farm Health |
| Pescod | Joe | The George Veterinary Group |
| Phillips | Joan | Fenton Veterinary Practice |
| Phillips | Oscar | Howells Veterinary Services Ltd |
| Phillpot | Sarah | Penbode Vets Ltd |
| Phipps | Emily | Westpoint Farm Vets |
| Pierattini | Alessio | Head and Head Ltd |
| Pierrepont | Katherine | Minster Veterinary Centre |
| Pile | Nick | Cliffe Veterinary Group Ltd |
| Pillar | Lorna | Molecare Veterinary Services |
| Pincombe | Lauren | |
| Place | Jonathan | Frame, Swift and Partners |
| Plant | Bobbie | Scarsdale Veterinary Group |
| Platts | Katie | Towcester Veterinary Centre |
| Plummer | Samuel | Forest House Vets Ltd |
| Pooley | Fay | Scarsdale Veterinary Group |
| Popham | Candice | Delaware Veterinary Group |
| Potter | Sam | Hook Norton Veterinary Group LLP |
| Potter | Tim | Westpoint Farm Vets |
| Powell | Beth | Belle Vue Veterinary Practice |
| Powell | Robert | Shepton Veterinary Group |
| Powell-Jackson | Edward | Synergy Farm Health |
| Prentice | Alasdair | Meadows Veterinary Centre |
| Preston | Grahame | TORCH Farm and Equine Ltd |
| Price | Christopher | Drove Farm Vets Limited |
| Prichard | Sophie | Fenton Veterinary Practice Limited |
| Priestley | Danielle | St. Boniface Veterinary Clinic Ltd |
| Prior | Stephanie | Penbode Veterinary Group |
| Prisada | Ioan Mihail | Hook Norton Veterinary Group LLP |
| Pugh | Matthew | Belmont Farm and Equine Vets Ltd |
| Puodziunas | Arturas | TORCH Farm and Equine Ltd |
| Put | Elske | Northpark Veterinary Group |
| Quayle | Ben | Craig Robinson Vets |
| Quayle | Douglas | Craig Robinson Vets |
| Raine | Matthew | Wright & Morten Veterinary Group LLP |
| Ramsden | Luke | Howells Veterinary Services Ltd |
| Randle | Jack | Nantwich Farm Vets |
| Randolph | Claerwen | Larkmead Veterinary Group |
| Raphael | Stephen | Academy Vet Centre |
| Reader | Jon | Synergy Farm Health |
| Reay | Mari | Craig Robinson Vets Ltd |
| Reed | Jemma | Paragon Veterinary Group |
| Reeves | Adam | |
| Reid | Alistair | Belle Vue Veterinary Practice |
| Reid | Charlotte | St Davids Farm Vets |
| Reid | Adam | TORCH Farm and Equine Ltd |
| Reisinger | Walter | Clyde Vet Group |
| Reive | Kirstyn | Armac Vets Ltd |
| Relph | Lizzie | West Lakeland Veterinary Group |
| Reynolds | Michael | The University of Sydney |
| Rhodes-Cheong | Hannah | Priory Veterinary Centre |
| Richards | Nia | D E Evans Veterinary Surgery |
| Richards | Bruce | Paragon Veterinary Group |
| Richards | Annwen | Tysul Vets |
| Richardson | Graeme | Thrums Vet Group |
| Richmond | Andrew | Westpoint Farm Vets |
| Ridout | Fiona | Midshire Veterinary Group Ltd |
| Rigby | Miriam | TORCH Farm and Equine Ltd |
| Riley | Rebecca | LLM Farm Vets |
| Risdon | Rachel | St. Boniface Veterinary Clinic Ltd |
| Robayna | Jorge | |
| Roberts | Fflur | Camlas Farm Vets LLP |
| Roberts | Neil | Dalehead Veterinary Group Ltd |
| Roberts | Bedwyr | Daleside Veterinary Group |
| Roberts | Becca | Fenton Vets |
| Roberts | Alex | Garston Supplies Ltd |
| Roberts | Gethin | The George Veterinary Group |
| Roberts | George | |
| Roberts | Judith | |
| Robertson | Andrew | McMurtry & Harding Veterinary Practice |
| Robertson | Leona | Northvet Veterinary Group Ltd |
| Robertson | Daniel | |
| Robinson | Sian | Allen & Partners |
| Robinson | Lara | University of Liverpool |
| Robinson | James | |
| Robinson | Katherine | |
| Robinson | Ruth | |
| Robson | Sara | Castle Veterinary Practice Ltd |
| Rodriguez | Candido | |
| Rogers | Helen | Friars Moor Veterinary Clinic Ltd |
| Romeo | Paula | Camlas Farm Vets LLP |
| Roper | Ian | Westpoint Veterinary Group (Chelmsford) |
| Rose | Andrew | Garden Veterinary Group |
| Rose | Henry | Stowe Veterinary Group |
| Ross | Douglas | Bakewell Veterinary Clinic Limited |
| Rowden | Emma | Westpoint Farm Vets (Winchester) |
| Rowley | Alexandra | Westpoint Farm Vets (Daventry) |
| Rudd | Claire | Synergy Farm Health |
| Ruddle | Padraig | Erne Veterinary Group |
| Russell | Elaine | Brownlow Veterinary Group |
| Russell | Stuart | Nantwich Farm Vets LLP |
| Rutherford | Andrew | |
| Ryder | James | Garston Supplies Ltd |
| Sadler | Catherine | Putland Vets |
| Sage | Laura | Damory Veterinary Clinic |
| Sampson | Barney | Hay Veterinary Group LLP |
| Sancho Ros | Pablo | Scarsdale Veterinary Group |
| Sanderson | Graeme | Abbey Green Vets Ltd |
| Sandiford | Mike | The George Veterinary Group |
| Sawran | Ami | Westpoint Farm Vets (Chelmsford) |
| Sawyer | Andrew | Alnorthumbria Veterinary Practice Ltd (Alnwick ) |
| Sayle | Emma | Wern Veterinary Surgeons |
| Scales | Paula | Haywood farm Vets |
| Scarisbrick | Craig | Nantwich Farm Vets LLP |
| Schaeli | Urs | Cheviot Vets Ltd |
| Schilling | Anna | Old Stone Vets |
| Schubert | Hannah | TORCH Farm and Equine Ltd |
| Schubert | Kiera | TORCH Farm and Equine Ltd |
| Scott | Helen | Dyfed Farm Vets |
| Scott | Heather | |
| Scott | Molly | |
| Scotter | Katie | Molecare Veterinary Services |
| Scovenna | Daniel | TORCH Farm and Equine Ltd |
| Searson | Shona | Donaldson's Vets |
| Seed | Richard | Prostock Vets Limited |
| Serres | Roger | Castle Veterinary Group Ltd |
| Shardlow | Tom | Synergy Farm Health |
| Sharkey | Hannah | Midshire Veterinary Group Ltd |
| Shaw | Georgina | Hafren Veterinary Group |
| Shaw | David | Nantwich Veterinary Group |
| Shepherd | Katharine | Bishopton Veterinary Group LLP |
| Shepherd | Graeme | Shepherds Veterinary Practice Limited |
| Sheppard | Victoria | |
| Shiles | Steve | The Hale Veterinary Group |
| Shone | Sally | |
| Shuttleworth | Jennifer | Calweton Veterinary Group |
| Sibley | Dick | West Ridge Practice Ltd |
| Silk | Louise | Synergy Farm Health |
| Silva | Jorge | Castle Farm Vets Malton |
| Sime | Catriona | Strathspey Vets |
| Simm | Chloe | New Era Veterinary Hospital |
| Simmons | Ed | Tibbs and Simmons Ltd |
| Simms | Tonia | Hampden Veterinary Hospital |
| Singer-Ripley | Emily | Tyndale Vets |
| Sivam | Kumar | Coast2Coast Farm Vets |
| Siviter | Peter | Synergy Farm Health |
| Slade | Will | Jonathan Wood Vets Ltd |
| Slater | Julian | Larkmead Veterinary Group |
| Smalley | Michael | Sandwich Veterinary Centre Ltd |
| Smith | David | Aldgate Veterinary Practice |
| Smith | Rachel | Axe Valley Large Animal Vets Limited |
| Smith | William | Eden Veterinary Practice |
| Smith | Robert | Farm First Vet Services |
| Smith | Ciona | Honddu Vets |
| Smith | Alistair | Thrums Veterinary Group |
| Smith | Ruth | Westward Veterinary Surgeons |
| Smith | Jasmine | Yan Farm Health |
| Smith | Ellen | |
| Smyth | Amy | |
| Soares | Luisa | Three Rivers Veterinary Group |
| Sola | Xavier | Holmefield Farm Services |
| Sommerville | William | The George Veterinary Group |
| Sowter | Richard | Park Hall Veterinary Clinic |
| Sparks | Tom | Armour Veterinary Group Ltd |
| Spilman | Mark | Bishopton Veterinary Group LLP |
| Spittle | Harriet | Dyfed Farm Vets |
| Spooner | Richard | Pendragon Vet Ltd |
| Spreull | Lucy | Market Veterinary Centre |
| Spurdens | Mark | Blakemere Veterinary Centre |
| Squibb | Benjamin | Blakemere Veterinary Centre |
| Squires | Martin | The Green Veterinary Surgery |
| Stack | Emma | Focus Farm Vets Ltd |
| Statham | Jonathan | Bishopton Veterinary Group LLP |
| Steel | David | Belle Vue Veterinary Practice |
| Steel | John | Tern Vets Ltd |
| Steele | Iain | Belle Vue Veterinary Practice |
| Steele | Greg | |
| Steele | Jonathan | |
| Steerforth | Daniel-Dean | |
| Stephen | Laura | |
| Stephens | Graham | Wood Veterinary Group Limited |
| Stevenson | Daniel | LLM Farm Vets |
| Stevenson | William | Three Rivers Veterinary Group |
| Stevenson | Emma | |
| Stewart | Penny | Armac Vets Ltd |
| Stewart | Maddie | Vale Veterinary Group (LA) Ltd |
| Stirke | Pippa | Bainbridge Vets Ltd |
| Stokes | Andy | Penbode Vets Ltd |
| Stott | Mark | FarmGate Veterinary Services Ltd |
| Strachan | Sally | Hird and Partners LLP |
| Stride | Mireille | Vale Veterinary Group (LA) Ltd |
| Stuart | Emma | Yan Farm Health |
| Such | Zackary | Rosevean Veterinary Practice Ltd |
| Sullivan | Jane | The Dryfe Veterinary Group |
| Sullivan | Lucy | Whitland Vets |
| Sutton | Jo | |
| Swan | Erica | Wern Veterinary Surgeons |
| Swetnam | Laura | Delaware Veterinary Group |
| Swiestowska | Jessica | Cross Counties Vets |
| Swift | Chris | Frame, Swift & Partners |
| Swindlehurst | Karen | Dalehead Veterinary Group Ltd |
| Swinson | Vanessa | APHA |
| 't Hoen | Steven Martijn | |
| Talbot | Richard | Garston Supplies Ltd |
| Tanner | Clodagh | Penbode Farm Vets |
| Tatham | Hannah | |
| Taylor | Sarah | Bredy Veterinary Centre |
| Taylor | Alison | Buchan Veterinary Clinics |
| Taylor | David | FarmVets SouthWest |
| Taylor | Sarah | Hampden Veterinary Hospital |
| Taylor | Gregory | Westpoint Farm Vets |
| Taylor | Ellen | |
| Tedford | Rebecca | Otter Vets |
| Terpstra | Marije | Westwards Veterinary Practice |
| Thirtle Mills | Laura | |
| Thomas | Caryl | Tysul Vets |
| Thompson | Mark | Craven Farm Vets |
| Thompson | Jake | LLM Farm Vets |
| Thompson | Helen | Moorland Veterinary Centre |
| Thomson | Harrison | Coomara Veterinary Practice |
| Thorn | Tamsin | Wood Veterinary Group Limited (Apollo Vet Services) |
| Thornton | Bethany | Farm Gate Veterinary Services Limited |
| Thorpe | Claire | Cliffe Veterinary Group Ltd |
| Thresh | Georgia | Hook Norton Veterinary Group LLP |
| Thurston | David | Green Hollow Veterinary Group |
| Tibbot | Erica | Castle Veterinary Practice Ltd |
| Tibbs | Clare | Tibbs and Simmons Ltd |
| Timmerman | Miranda | Prostock Vets Limited |
| Tinkler | Ciara | Strand Veterinary Practice |
| Todd | Richard | Belle Vue Veterinary Practice |
| Toft | Heather | Wern Veterianry Surgeons |
| Tomlinson | Guy | Daleside Veterinary Group / Daleside Animal Care Ltd |
| Tomlinson | Sarah | |
| Totir | Stefan | Bennett-Williams Vets |
| Towers | Tracey | Oakhill Veterinary Centre |
| Trethewey | Stephen | Derbyshire Vets |
| Trickey | Steven | Chapelfield Veterinary Partnership |
| Tubbs | Lucy | Cain Veterinary Centre |
| Tunney | Grace | |
| Turley | Olivia | Chapelfield Veterinary Partnership |
| Turner | Katie | Delaware Veterinary Group |
| Turner | Andrea | Langford Farm Animal Practice |
| Turner | Rachel | TORCH Farm and Equine Ltd |
| Turner | Stephen | |
| Turner Haig | Kate | Biobest Laboratories Ltd |
| Turtle | Colin | How Farmvet |
| Twomlow | Adam | Shires Veterinary Practice |
| Tyler | Lucy | Kingsplay Farming Co. Ltd |
| Tyler | Eleanor | McMurtry & Harding Veterinary Practice |
| Tyson | Kathryn | The Bridge Veterinary Clinic |
| Van Den Meijdenberg | Harm | North Park Veterinary Group |
| Van Staden | Kirstyn | Steffan Veterinary Services |
| Van Winden | Steven | |
| Vangucci | Benjamin | E C Straiton and Partners Ltd |
| Vayro | Hilary | Kebir House Veterinary Practice Ltd |
| Veenstra | Benno | Stapeley Veterinary Practice |
| Veneklaas Slots | Hans | Park Issa Veterinary Hospital |
| Verkuijl | Nanja | Cliffe Veterinary Group Ltd |
| Viljoen | Barend | Milan Veterinary Ltd |
| Vines | Ruben | The Oak Veterinary Group Ltd |
| Voichitoiu | Vili-Robert | Paws Veterinary Health Centre |
| Vos | Suzanne | Park Issa Veterinary Hospital |
| Walker | Alan | Armour Veterinary Group Ltd |
| Walker | Andrea | Belle Vue Veterinary Practice |
| Walker | Claire | The Livestock Partnership |
| Walmsley | James David | Stanley House Vets |
| Walters | Alex | Fairview Farm Vets |
| Walters | Richard | South Moor Vets |
| Walters | Mary | South Wales Farm Vets |
| Warboys | Tom | Synergy Farm Health |
| Ward | Hana | Torch Farm Vets |
| Warren | Chris | The George Veterinary Group |
| Watchorn | Frederick | |
| Watkins | Charlotte | Belmont Farm and Equine Vets Ltd |
| Watson | Liz | Cain Veterinary Centre |
| Watson | Eamon | National Milk Records |
| Watson | Ben | South Moor Vets, |
| Watson | Christopher | University of Liverpool |
| Watton | Chris | Farm Vet Solutions |
| Watts | Ben | Kite Consulting |
| Webber | Charlotte | Shires Veterinary Practice |
| Weir | Laura | Lisnafillan Farm Services |
| Weir | David | |
| Welford | Rod | Millcroft Veterinary Group |
| Welsh | Emer | County Vets |
| Welsh | Chris | Erne Veterinary Group |
| West | Sarah | Fenton Vets |
| Westwater | Lauren | Dyfed Farm Vets |
| Weyers | Zeinab | Rosevean Veterinary Practice |
| White | Iolo | Camlas Farm Vets LLP |
| White | Ella | Drove Farm Vets Limited |
| White | Oliver | Endell Veterinary Group Ltd |
| White | Tom | Evolution Farm Vets Ltd |
| White | Victoria | FarmVets SouthWest |
| White | Cormac | FarmVets SouthWest (Westpoint) |
| White | Pippa | Mount Vets Ltd |
| White | Eleanor | |
| White | Louise | Westpoint Veterinary Group Ltd (Launceston) |
| Whitehead | Anna | Ribble Vets |
| Whitehead | Martyn | Vale Veterinary Group (LA) Ltd |
| Whitehurst | Gillian | Glenthorne Veterinary Group |
| Whiteley | Philip | MacArthur Barstow & Gibbs |
| Whittick | Sarah | |
| Whittle | Claire | LLM Farm Vets |
| Whitwam | Megan | The Willows Veterinary Group |
| Wickham | Ian | Hay Veterinary Group |
| Widdowson | Ellen | Shires Veterinary Practice |
| Wieser | Danny | Bakewell Veterinary Clinic Limited |
| Wight | Jack | Bishopton Veterinary Group LLP |
| Wilkins | Chris | McMurtry & Harding Veterinary Practice |
| Williams | Josh | Endell Veterinary Group Ltd |
| Williams | Becky | Nantwich Farm Vets LLP |
| Williams | Jonathan | Tibbs and Simmons Ltd |
| Williams | George | Torch Farm and Equine Vets |
| Williams | Anna | Wern Veterinary Surgeons |
| Williams | Dyfrig | Wern Veterinary Surgeons |
| Williams | Harry | Ystwyth Veterinary Group |
| Williams | Hywel | Ystwyth Veterinary Group |
| Williams | Hannah | |
| Williams | Zoe | The George Veterinary Group |
| Williams-Roberts | Bethan | |
| Willis | Rose | Tern Vets Ltd |
| Willshire | James | Endell Veterinary Group Ltd |
| Wilson | Lily | Badgers Oak Veterinary Clinic |
| Wilson | Stephen | Ballygawley Veterinary Clinic |
| Wilson | Simon | Cain Veterinary Centre |
| Wilson | Norman | Castle Veterinary Practice Ltd |
| Wilson | Sophie | CW Farm Vets |
| Wilson | Alan | Northvet Veterinary Group Ltd |
| Wilson | Simon | |
| Winearls | Alastair | Mount Vets Ltd |
| Winslow | Stephanie | Three Valley Vets |
| Witherow | Geoff | Westridge Veterinary Practice |
| Wood | Andrew | Blowey & Wood |
| Wood | Max | Larkmead Veterinary Group |
| Wood | Rod | Shropshire Farm Vets Ltd |
| Woodcock | Stephen | E.C Straiton and Partners Ltd |
| Woodroff | Christopher | Severn Edge Veterinary Group |
| Woods | Thomas | Wicstun Veterinary Group |
| Woolley | Rachel | |
| Worth | Dean | Coast2Coast Farm Vets |
| Worth | Helen | Wright & Morten Veterinary Group LLP |
| Wotton | Ruth | St. Boniface Veterinary Clinic Ltd |
| Wright | Rosie | Fenton Vets |
| Wright | Tom | LLM Farm Vets |
| Wyn Jones | Geraint | Milfeddygon Deufor |
| Wyse | Angus | Castle House Veterinary Practice |
| Yarnold | Lucy | Orchard Vets Ltd |
| Yarwood | John | Nantwich Veterinary Group |
| Yates | Annabelle | Bainbridge Vets Ltd |
| Yates | Beatrice | The George Veterinary Group |
| Yeates | Helen | Four Crosses Veterinary Surgery |
| Young | Rose | Molecare Veterinary Services |
| Young | Stuart | Mount Vets Ltd |
| Yu Liu | Pui | Head and Head Veterinary Practice |
| Zwamborn | Emily | Shepton Veterinary Group |